In the 1960's, children with disabilities were not readily accepted into society or into our schools. The feeling at the time was to put "them" away in institutions where society didn't have to see them or hear them or even think about them. The conditions of many of these institutions were horrendous.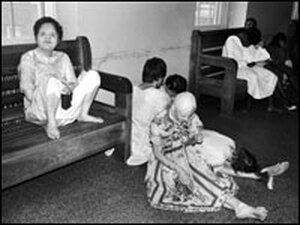 (Go here to read about one infamous institution
http://www.npr.org/templates/story/story.php?storyId=87975196
)
On March 2, 1960 a baby boy was born to a young 19 year old mother. This was her first child. She had married young , just 17, and was unfamiliar with much of the world. She didn't know much about disabled people or children. For a whole year she loved and cared for her child along with her husband. To them, he was perfect. There were, however, small things about the child that bothered them. He did not roll over when he was supposed to. He often had difficulty holding his head up. And he never babbled like other babies his age.
The young mother, concerned, took her child to a doctor for a check-up. The doctor was surprised and asked the mother, "Don't you know why your child is the way he is"? No, she did not. "Well", replied the doctor, "your baby boy is mongoloid". That was the term used in those days for children with Down's Syndrome. "I suggest you put him in an institution where they can care for him better than you. He will be nothing but a detriment to all other children you have." Upset, scared, this mother ran home to her husband and shared what she had found out. Together, they ignored the doctor's recommendations. They ignored his cruel suggestions of "putting away" their child. And they vowed to keep him as long as they possibly could. And keep him they did.
He followed me around like a puppy dog from the time I could walk until the time I left home.
When I left and went away to college, my mother would tell me he would sit in my room and wait for me. Just sit and wait.
Mike was my teacher. He taught me compassion and empathy for those who cannot speak for themselves. You see, he never learned to talk. When he was 5 years old he had the measles-a really bad case of measles. His fever became dangerously high. But in those days, even doctors would refuse treatment of disabled children. And the hospital refused to treat my brother. He recovered from the high fever and measles but the few words he had begun saying, disappeared. So much injustice in those days. So much ignorance.
Later, when my own son was diagnosed with Autism, who better but I to be the mother? I had already learned so much from my own brother. I learned to fight for those with no voice. And thus because of my brother, I helped give a voice to my own son ( who did learn to talk).
Well over ten years ago, I began to notice a decline in my brother's health. He began to have trouble walking, feeding himself, dressing himself. During one incident when my parents had left him in my care, his decline became oh so apparent. He refused to do anything I asked him. He refused to even move from the bed he was sleeping in. Growing up, he had always listened to my direction. My own mother could not handle him as I could(and she would often admit that). So when his behavior and his health declined, I knew my parents were no longer going to be able to keep him at home.
Soon after that, my parents put my brother in a group home for disabled adults. Although it was confusing for him (and my parents) he lived there quite comfortably for several years. Unfortunately his health continued to decline and reached a point where he had to be put into a nursing facility. Over a five year span, his health deteriorated. He lost his ability to walk, then feed himself, then sit up.
Seven months ago, as my mother also began to decline, my brother had to have a feeding tube inserted as he could no longer swallow. By that time, he no longer recognized any of us. He lay in a bed and stared at the ceiling. It was painful to watch and each time I visited it, I prayed to God he would be released from the prison he was in.
Right around my mother's death, my brother developed pneumonia for the umpteenth time. He had been battling pneumonia off and on for five long years. This time, antibiotics stopped working. He began to develop other infections. His breathing was so labored , I could feel him struggle with each breath.
A few days after my mother's funeral, the doctors delivered their recommendations. Mike was not going to get better. They could not cure the pneumonia. He was slowly drowning. They suggested he be taken off all life support. My father could not handle that recommendation (understandably so) and ignored it for a week or so. But after much prayer, my father gave the go ahead.
Mike was strong. Stronger than any of us imagined. He lived for 9 days off of life support. Yesterday, January 21, 2013 at 6 pm Mountain time, my brother was set free. He walks again; he eats again; he laughs again. Most important of all, my brother finally is able to talk! When we were growing up, I used to dream about talking with my brother. About him carrying on a conversation with me. And now, that dream is reality.
Thank you, my brother. I am who I am because of you. Till we meet and talk and laugh.